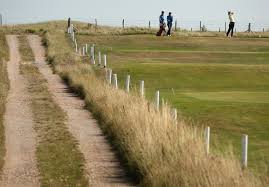 The Course > Out of Bounds
Help
Definition: Out of Bounds, Boundary Object
Out of Bounds stakes should be white. Definition
When stakes are used to define out of bounds, the lower course-side points on the stakes define the OB line. Definition
The out of bounds line extends upwards and downwards. Definition
A ball that crosses out of bounds but lands on the course is still on the course unless the Committee determines otherwise. Definition
A ball is out of bounds when all of the ball is on the OB line/stakes or beyond the OB line/stakes. In other words, when any part of the ball is on the course the ball is in bounds. 18.2a(2)
A ball played from out of bounds is a wrong ball. Wrong Ball
Out of Bounds stakes cannot be removed. If one is removed when it effects the players stroke it must be put back into place before the stroke. 8.1a(1) and 8.1c(1)
The penalty for hitting a ball out of bounds is stroke and distance. 10.2b
Local Rule E-5 allows an alternative to playing under stroke and distance for a lost ball. For 2 penalty strokes, another ball may be played from the fairway across from the area where the original ball went out of bounds.